Bruce Wilkie, driving a Roman Auto Prep built and maintained Alfa Romeo GTV holds fastest lap time of all Group 8 Alfas through the week until the 5th session on Saturday when the clutch failed. Roman Tucker of Roman Auto prep responds:…. "It would appear that we left the clutch disk in for exactly one race too many!!!"
Wilkie had Roman Auto Prep build this car for him in 1999 and has been racing it ever since. Roman went on to say… "Initially we built this car with a very conservative set-up, both chassis and engine. As Bruce evolved as a driver naturally the car needed to keep pace with that change. In 2005 we increased the horsepower substantially and this year we changed the chassis set-up to include some new parts that we have developed and manufacture."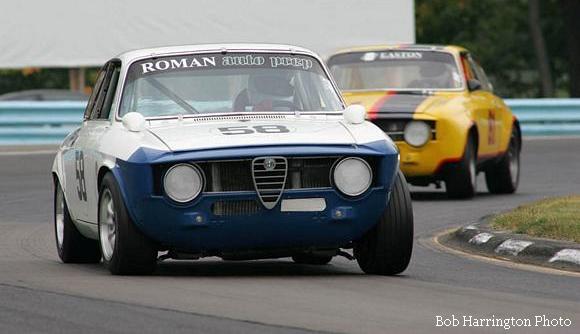 Bruce loves the new configuration and has never been faster at the Glen. Roman Tucker:… "This new chassis set-up really works with Bruce's driving style. My goal is to produce racing chassis components that are integrated and up-gradable so that we can bring our driver / chassis combinations up through the grid at a safe and comfortable pace. I would be remiss if I didn't mention that Bernardo Martinez, Jr. has helped me a great deal with developing some of these parts. He's a good test driver and has offered me good feedback on the parts I have wanted to develop. Many of these parts ended-up on the Wilkie car and Bruce has proven that these parts can translate to drivers of all experience levels…"